Location:

/
A Bad Day For Lee
A Bad Day For Lee
"A BAD DAY FOR LEE"
A tag-team match featuring Brandi Alexader & Luscious Lee facing Lexie Fyfe and Becca! So why the title? Well, at the end of the day, things aren't going very well for the little blonde!
Offered in four parts, including the 3 fall match and Lee's final punishment at the hands off ALL the other gals.
For a 20 second sample clip, please RIGHT-CLICK, then SAVE-AS to download the file to your computer.
The directory is password protected, so you need to enter "theater" as the userid and "sample" as the password.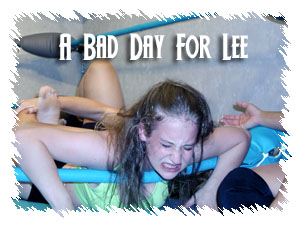 BRANDI ALEXANDER & LUSCIOUS LEE versus BECCA & LEXIE FYFE A classic match comes to ThunderGirlsThea…


$9.95 $7.95

BRANDI ALEXANDER & LUSCIOUS LEE versus BECCA & LEXIE FYFE Now we're in to the second fall, and …


$10.95 $8.95

BRANDI ALEXANDER & LUSCIOUS LEE versus BECCA & LEXIE FYFE The match is tied one fall each, and Bran…


$14.95 $12.95

BRANDI ALEXANDER & LUSCIOUS LEE versus BECCA & LEXIE FYFE The match seems to be won, but Brandi is …


$7.95 $5.95