Location:

/
Queens Of Chaos 2
Queens Of Chaos 2
NEW! Match 13, the TITLE bout, from Queens of Chaos 2!
It's APRIL HUNTER vs SWEET SARAYA, in a 30-minute blow out as only QoC can provide.
We're also offering a limited-time offer, all 13 matches for only $79.95. That's over 3 hours of amazing female wrestling... but hurry, offer ends soon. Click HERE!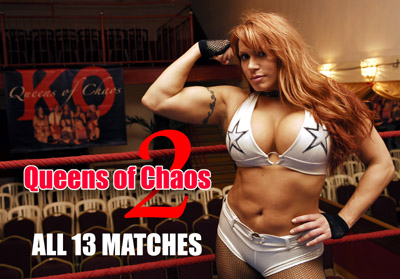 QUEENS of CHAOS 2 Match 01: Minx vs Roxi Battling beauties from around the world come together for the amazing 2 day Q…


$10.95

QUEENS of CHAOS 2 Match 02: Maya vs Lacrima Battling beauties from around the world come together for the amazing 2 da…


$8.95

QUEENS of CHAOS 2 Match 03: Pandora vs Jazzy B Battling beauties from around the world come together for the amazing 2…


$4.95

QUEENS of CHAOS 2 Match 04: Jenidee vs Jade Battling beauties from around the world come together for the amazing 2 da…


$5.95

QUEENS of CHAOS 2 Match 05: Portia Perez vs Jersey Battling beauties from around the world come together for the amazi…


$6.95

QUEENS of CHAOS 2 Match 06: April Hunter vs Christy Hemme Battling beauties from around the world come together for th…


$7.95

QUEENS of CHAOS 2 Match 07: Sumie Sakai vs Sweet Saraya Battling beauties from around the world come together for the …


$9.95

QUEENS of CHAOS 2 Match 09: Christy Hemme vs Minx Battling beauties from around the world come together for the amazin…


$3.25

QUEENS of CHAOS 2 Match 10: Sumie Sakai vs Portia Perez Battling beauties from around the world come together for the …


$5.95

QUEENS of CHAOS 2 Match 08: Four Corners Match April Hunter, Jazzy B, Lacrima, Jersey, Roxi, Jade Battling beauties f…


$24.95 $19.95